These half-day summits feature Indie Books International Chairman Mark LeBlanc and CEO Henry DeVries sharing their unique expertise on how people can accelerate their growth by writing a book and speaking for fee and for free to build their book or business.
No cost. No selling. No kidding.
Check out the upcoming dates and locations here.
---
Marketing With a Book Weekend Retreat
Find out what you need to know and what you need to do to take your business or practice up one level or four.  Henry will share in depth his Magnificent Seven ways to use a book as the #1 marketing tool and speaking as the #1 marketing strategy.
This is the ultimate, anti-boot camp experience. The Marketing With a Book weekend retreats are limited to 15 full-time, fully-engaged, independent consultants.
June 7-9, 2019 in La Jolla, CA
---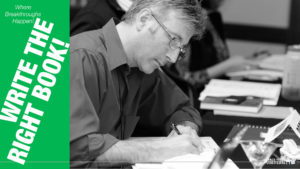 Stop Dreaming and 

Start

 

Writing
As an entrepreneur, speaker, coach, or consultant, you know that writing a book will build your credibility and help establish you as an expert in your field. You'll be taken more seriously, command a higher price for your services, multiply your message, and open new doors in your career.
At the Write the Right Book LIVE Master Workshop, you'll learn not only how to write the right book, but you'll also leave with a draft book manuscript. Bring your laptop and your running shoes because we are writing a draft manuscript in two days. Leave your perfection behind. We are shooting for a great first draft.
You won't want to miss out on this unique weekend experience with Darren LaCroix and Henry DeVries.