Henry DeVries speaks on the following topics. If you would like to book Henry for a speaking engagement or would like more information, please call him at 619.540.3031 or click here.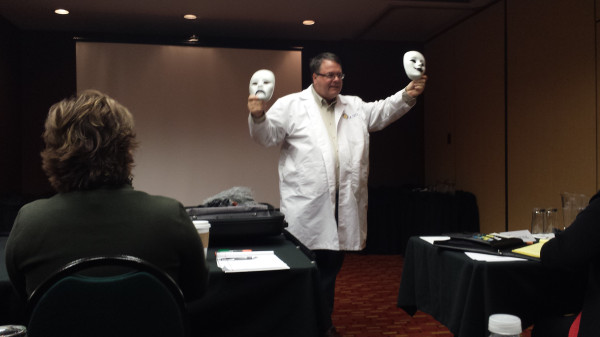 How Smart Business Leaders, Coaches and Key Advisors Use Storytelling Skills to Advance Their Company, Cause, or Career
Storytelling helps consultants, coaches and business leaders persuade on an emotional level. This program identifies the eight great meta stories smart leaders need to tell to persuade and motivate: monster, underdog, comedy, tragedy, mystery, quest, escape, and rebirth (the top 100 business best-sellers employ one of these eight stories because psychologists like Freud and Jung tell us that as humans we want and need to hear these stories). On a personal level, the program presenter, Henry DeVries, first learned the power of story in business when McDonald's founder Ray Kroc gave him a copy of Grinding It Out when he went to work for him ("I was given a blank check by Coca-Cola to stage Ray Kroc's 80th birthday party attended by 60,000 people"). Additionally, Henry has uncovered nine main reasons why business leaders have used storytelling:
Ray Kroc of McDonald's (corporate culture)
Sheryl Sandberg of Facebook (personal cause)
Martha Stewart (brand identity)
Tony Hsieh of Zappos (employee morale)
Bill Gates of Microsoft (thought leadership)
Sam Walton of Walmart (legacy)
Jack Welch of GE (personal branding)
Richard Branson of Virgin (positioning)
Lee Iacocca of Chrysler (national cause)
Audience members will participate by telling a story that is important to their company, cause or career using props and the eight great story formats.
Value to Attendees:  Nothing is as persuasive as storytelling with a purpose, and members will learn the techniques of telling a great story employed by Hollywood, Madison Avenue and Wall Street. In addition to humorous ways to remember the eight great meta stories, members will also discover how to include key characters into each story including the hero, sidekick, nemesis, and mentor (plot spoiler: business leaders should not be the hero of their own stories).

Do you want to attract high-paying clients with books and speeches?
Henry DeVries will share his unique expertise on how people can accelerate their growth by writing a book and speaking for fee and for free to build their book or business.
This event is mainly designed for consultants and coaches. Your host, Henry DeVries, is a best-selling author who educates people that the book is the starting line, not the finish line. He wants to help you understand the secrets in the preparation, publication, and promotion of a book that grows your business, puts more money in your pocket, and helps you make the difference that you were meant to make.
Past Speaking Engagements
Business and Professional Organizations
AIGA – American Institute of Graphic Artists
AMA – American Marketing Association
American Academy of Estate Planning Attorneys
APC—Association of Professional Consultants
Best-Seller Publishing
Beyster Institute
Carlsbad Chamber of Commerce
CEMA – Computer and Electronics Marketing Association
Downtown San Diego Rotary
Greater San Diego Chamber of Commerce
Healthcare Communicators
High-Tech Resource Group
HTMA – High-Tech Marketing Alliance
IABC – International Association of Business Communicators
IMC – Institute of Management Consultants
Inner Circle
Lawyers Guild of Orange County
LMA – Legal Marketing Association
Media Communicators Association
NFC – National Fraternal Conference
North County San Diego CPA Group
Pacific Coast Builders Conference
Pinnacle
PRSA – Public Relations Society of America
San Diego Industrial Recreation Council
San Diego Regional Technology Alliance
The Portfolio Group
US Postal Service Mail Expo
Educational Organizations
University of California, San Diego
San Diego State University
Coleman College
United States International University
National University
Grossmont College
Non-Profit Management Solutions
SCORE – Service Corps of Retired Executives
San Diego Learning Annex
Los Angeles Learning Annex